Dates:
2-4 November, 2023, Prague, DOX Centre for Contemporary Art
Venue:
Prague, Czech Republic; DOX: Centre For Contemporary Art, Poupětova 1, 170 00 Praha 7-Holešovice
Topic:
Dimensions of Empathy. How Empathy and the Concept of Ethics Changed between the Holodeck and the Metaverse?
How our trust and sense of criticism shapes the ways we understand old and novel interactive digital narratives?
The concept of the Metaverse embodies a boundless and interconnected sense of compatibility and engagement, which amplifies our expectations for immersive forms of media. In the early days, visionaries already envisioned fully realized immersive environments akin to those depicted in the Star Trek: The Next Generation TV series and described in Janet H. Murray's influential book, Hamlet on the Holodeck. Social VR platforms - by allowing creators to adapt theatrical performances to their platforms - have ventured into exploring shared experiences and collective activities that influence both our physical and virtual realms. Productions designed to be experienced in VR HMD's  are experimenting with diverse narrative structures, while the announcement of each new AR headset generates additional anticipation. The growing integration between the physical and digital domains holds the potential to create experiences resembling those depicted in the Holodeck, characterized by enhanced visual fidelity, expanded interaction possibilities, and greater individual agency. However, the emergence of new publicly available text, image, and video generators that rely on existing content raises concerns about the originality of artistic expression. Furthermore, it raises crucial questions about data security and the ethical handling of user-provided information. Hence, it becomes imperative to reimagine the concept of empathy—how it is fostered—and establish ethical guidelines for utilizing these technologies in the creation of artworks or practical applications.
There are various interpretations of empathy, such as the target of our empathetic feelings. Madary and Metzinger (2016) introduced the concept of a code of conduct for VR research, suggesting that it could potentially manipulate behavior significantly, particularly when "illusions of embodiment are misused" (ibid.). They raise broader ethical concerns about research, including the limitations of a code of conduct and the boundaries of experimental environments. But should we consider a similar approach for artistic interactive digital narratives or VR productions?
For instance, Fisher (2019) argues that the experiencer empathizes more with the VR production creators rather than with the people affected. However, should we explore and implement new ethical practices when presenting interactive and immersive artworks, especially if they are contrasting old and new creative practices? While Fisher questions the direction of empathy, both e.g. Camilleri et al. (2017) and Owais and Yaacoub (2020) contend that the experiencer can indeed feel a sense of empathy. The key question is how this empathetic experience can be ethically harnessed in VR productions that tackle pressing issues like war or mental health.
Another pressing concern regarding ethical perspectives arises in the context of social VR platforms, where community management and moderation raise further questions about interpersonal empathy.
How can we effectively convey complex subjects such as history using cultural heritage in immersive productions? How can we ensure transparency regarding the "the existence of intersectional regimes of oppression" (see Koenitz et al. 2023)? Moreover, how do we establish a framework for the ethical responsibilities of both the creators and participants of these experiences? While authors may have more stringent guidelines to follow, as suggested by Koenitz et al. (2023), the responsibilities of experiencers can also be a debatable point, as it can either impede or encourage active involvement based on the experience's design or technical limitations. Nonetheless, certain theater performances already address this ethical aspect of audience interactivity, but there may be instances where creators or organizers fail to provide room for civic engagement, as highlighted by Mühlfoff (2018). It is crucial that this issue is promptly addressed.
To better grasp the changing world and the complexity of the changes, it is important to improve emerging artistic and scientific practices to enable critical reflection. Virtual Environments and the Metaverse provide particular opportunities in this regard, provided we embrace the changing relations between creators, audiences and scientists they bring about. Virtual Environments could also be described as interactive design fictions (Sterling, 2012), virtual sandboxes to try out novel ways of communicating, interacting and expressing, in the sense of "Playful Utopias" (Koenitz 2019). This notion connects VEs to the long tradition of literary and cinematic utopias and their effect on reality (cf Shedroff et. al. 2012) and positions VEs as a more democratic, participatory form of speculative narratives, especially in the realm of Metaverse-like environments. In this year's conference, we aim to have a special emphasis on how IDN's and related applications can guide us to a more peaceful future and/or also guide us for taking better care of each other.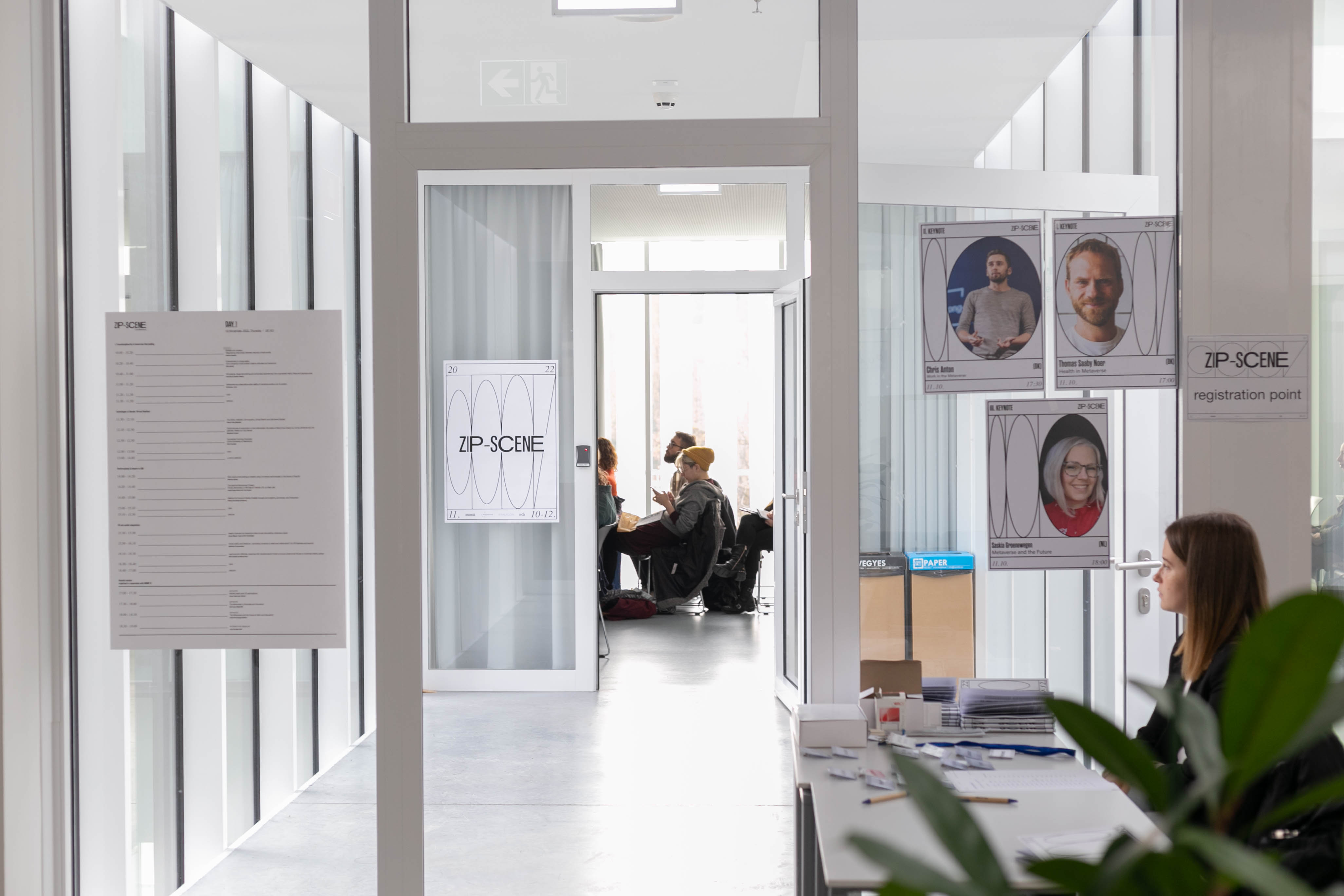 The Zip-Scene Conference takes XR/extended reality (VR/AR/MR) and Metaverse-related works seriously and treats them on equal footing to film and performing arts, and wishes to expand its scientific treatment and reflection. On this basis, we are inviting papers that address narrative experiences enabled by digital platforms, especially online and XR or related to the Metaverse. We are also looking for IDN practices and prototypes from medical and mental healthcare practices that could offer new approaches on how storytelling can be embedded in scientific practices. Papers should address either one or several of the following topics:
ORGANIZERS
Ágnes Karolina Bakk, PhD: narrative designer and researcher at the Innovation Center of Moholy-Nagy University of Art and Design. She focuses on immersive storytelling & the science of magic, and currently leads two research projects: 1. on romantic relationships in Metaverse-like environments 2. psychological restoration in a specific VR prototype. She is the founder of the Zip-Scene conference; cofounder of Random Error Studio; co-curator of Vektor VR section. She teaches immersive storytelling, speculative design and offers talks at various conferences from Moscow to Montreal including festivals (Stereopsia, DokLeipzig). She is currently involved in several video games and creates on her own artistic VR production.
Daniela Hanusová has an academic background in film and gender studies (Charles University, Prague) and 7 years of experience working for film festivals as a guest service coordinator (East Doc Platform, Ji.hlava IDFF, One World Human Rights Documentary Film Festival, Mezipatra Queer Film Festival, Marienbad Film Festival, etc.). In 2022/2023, she was a Blue Book Trainee for the European Commission, working on a research of sustainability and gender equality, inclusion and diversity strategies of European film festivals at the Creative Europe MEDIA unit. Her fascination with the artistic and transformative potential of the medium of virtual reality has lead her to become an Executive Director of Art∗VR Festival in 2023.
Ondřej Morávec is an independent director, screenwriter and producer. He closely collaborates with Brainz Studios independent creative group. He worked on his first feature film and VR project Darkening from 2019 to 2022. The world premiere of Darkening was at the Venice Film Festival in 2022 and later it was nominated for the Czech Lion Award in the animated movie category. His new project Fresh Memories: The Look premiered at South by Southwest festival. Since 2014 he has worked as an independent dramaturgist for multiple Czech film festivals. He curates VR movies categories at Anifilm, Letní filmová škola, Febiofest and Zlín film fest festivals.
Hartmut Koenitz is a Professor in Media Technology at Södertörn University in Sweden, a visiting researcher at the University of Amsterdam, and a visiting research fellow at Trinity College Dublin. His latest book "Understanding Interactive Digital Narratives" was published by Routledge in April 2023. His research is concerned with the theory, practice, education and societal impact of interactive narratives and games and he has published over 70 scholarly publications on these topics including the co-edited volume Interactive Digital Narrative – history, theory and practice (Routledge 2015). Koenitz is the chair of the EU COST Action 18230 INDCOR (Interactive Narrative Design for Complexity Representations – https://indcor.eu) and the president of ARDIN, the Association for Research in Digital Interactive Narratives (https://ardin.online) which runs the International Conference on Interactive Digital Storytelling (ICIDS), and is a partner of the Zip-Scene conference. He is also a visual artist, and his works have been shown in Atlanta, Paris, Istanbul, Seoul, Copenhagen and Porto
Conference themes:
Interactive storytelling methods and authoring

Video games

Virtual reality experiences & movies

Augmented reality in interactive storytelling

Interactive performing arts practices

Interactive museums and archives

Immersive environments (media archeology and phenomenological approach)

Special track #1: Empathy in VR creations

Special track #2: Ethical measures and their application possibilities
General information
The conference is intended as an in-person event in Prague, barring complications caused by the pandemic. The organizer reserves the right to make changes to the event program.
Registration fee
Both for papers and workshop leaders: 100 EUR (physical attendance)
(Reduced registration fee is available upon request)
More information about visitor tickets in September.
The organizers cannot cover travel and accommodation costs. Upon request we can provide you with an invitation letter.
For Whom
The conference addresses scientific researchers, game professionals, programmers, artists, scholars and professionals from the fields of performing arts and game studies, as well as interactive storytellers, experience designers, narrative designers, VR-professionals and philosophers and others concerned with the conference topics. The conference aims to bring together emerging scholars, professionals and creators in order to create a joint platform which would help individuals to understand and to develop these types of productions.
This year the conference is organized in cooperation with ART*VR festival. This is the first festival in the territory of the Czech Republic to focus conceptually on the format of art projects in virtual reality (VR). The carefully curated programme aims to present the best in the field of artistic VR creation and immerse the audience in unique, immersive virtual worlds. The programme will showcase the latest projects presented at major festivals such as the Venice Film Biennale, Sundance, Tribeca and SXSW in the USA, and IDFA in Amsterdam. The event also aims to present several projects in international or world premieres.
The festival will have a competitive and non-competitive part and will aim to present VR projects set in physical art installations. The event will take place in the exhibition space of Centre of Contemporary Art: DOX. An important part of the programme is an industry programme for film professionals, a series of lectures on VR and an accompanying programme. A special programme for primary and secondary schools will also take place in the morning of the festival.
References:
Camilleri, M. Montebello, A. Dingli, and V. Briffa, "Walking in small shoes: Investigating the power of vr on empathising with children's difficulties," in 2017 23rd International Conference on Virtual System & Multimedia (VSMM). IEEE, 2017, pp. 1–6.
J. A. Fisher, "Empathic actualities: Toward a taxonomy of empathy in virtual reality," in International Conference on Interactive Digital Storytelling. Springer, 2017, pp. 233–244.
Jenkins. H. (2006). Convergence Culture. New York, University Press.
Koenitz, H. (2015). Towards a Specific Theory of Interactive Digital Narrative. In H. Koenitz, G. Ferri, M. Haahr, D. Sezen, & T. I. Sezen (Eds.), Interactive Digital Narrative (pp. 91–105). New York: Routledge.
Koenitz, H. (2019). Playful Utopias. Sandboxes for the Future. In Beil, B. et al. Clash of Realities, transcript Verlag, Bielefeld, https://doi.org/10.1515/9783839450505-009
Murray, J. Research into Interactive Digital Narrative: A Kaleidoscopic View. In: Rouse R., Koenitz H., Haahr M. (eds) Interactive Storytelling. ICIDS 2017. Lecture Notes in Computer Science, vol. 11318. Springer, Cham, 2018.
Mühlhoff, Rainer. "Dark immersion: Some thoughts on SIGNA's Wir Hunde/Us Dogs." Staging Spectators in Immersive Performances. Routledge, 2019. 198-204.
W. B. Owais and E. Yaacoub, "Quantifying Empathy in Virtual Reality: An Outline," 2020 IEEE International Conference on Informatics, IoT, and Enabling Technologies (ICIoT), Doha, Qatar, 2020, pp. 457-462, doi: 10.1109/ICIoT48696.2020.9089565.
Rouse, R. (2016). Media of attraction: a media archeology approach to panoramas, kinematography, mixed reality and beyond. In: Nack, F., Gordon, A.S. (eds.) ICIDS 2016. LNCS, vol. 10045, Springer, Cham, 97–107.
Shedroff N. & Noessel Ch, (2012). Make It So. Interaction Design Lessons from Science Fiction. Berlin: Rosenfeld Media.
Short, E. (2019) Mailbag: Self-Training in Narrative Design. https://emshort.blog/2019/01/08/mailbag-self-training-in-narrative-design/?fbclid=IwAR2PgubIPnP69Pw-1UyBkBqlyh1_D2SxfGmDtnIiuk1rDITSQEAnVmiE9Js. Accessed 30 April 2022.